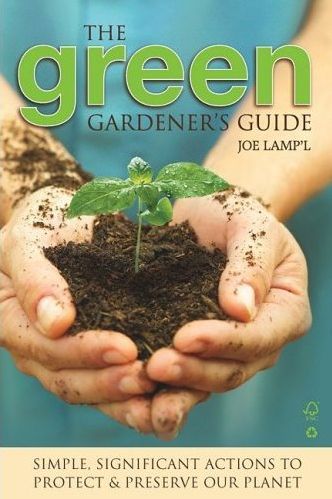 The Green Gardener's Guide: Simple, Significant Actions to Protect & Preserve Our Planet

by Joe Lamp'l


363 pages

Cool Springs Press, 2008

List price:
$16.95




I have a confession to make. I'm not a gung-ho green gardener. Sometimes when I'm among my gardening cohorts on Twitter, Facebook, or my gardening blog,
Our Little Acre
, I feel a little guilty that I'm not out there being more of a cheerleader for the ecology than I am. Oh, I'm a believer in 90% of it, but I know I don't do all I could to back up what I believe.


What I also know is that everyone can do something and something is...well...
something
.


"What can I do?" you might ask.


Joe Lamp'l to the rescue! In
The Green Gardener's Guide: Simple, Significant Actions to Protect & Preserve Our Planet
, the key to answering that question is in the title. In Joe's book, appropriately labeled as a

guide

, he lays out many

simple

tips for being more responsible gardeners in a format that lends itself to quick reads. No single suggestion in the book is more than three or four pages long - many are shorter.


With each idea presented, Joe gives us the logic behind it and the results achieved when it's followed. When you know that things you do have an impact, no matter how small, it provides the motivation to do them.
The Green Gardener's Guide
is just the type of book that gets people talking over the fence, which happens to be one of Joe's suggestions. When you find helpful tips in this book, tell your friends and neighbors! Before you know it, you'll be feeling good about taking better care of not only your little corner of the world, the rest of it will be better off, too.


Joe Lamp'l
, also known as Joe Gardener

®

, is a nationally syndicated garden writer and host of the PBS series
GardenSmart
and DIY Network's
Fresh from the Garden
. Joe has emerged as one of the most recognized national gardening communicators - and certainly one of the most stimulating personalities in the "green" sector, with his passion for gardening and environmental stewardship.


You can also find him on his website,
Joe Gardener: Growing a Greener World
.
_________________
The product or merchandise being reviewed in this blog post was the sole compensation for testing and reviewing the product. All opinions expressed here are mine, with no suggestions whatsoever by the manufacturer or distributor. If I like it, I'll say so. If I don't, I'll say that, too.