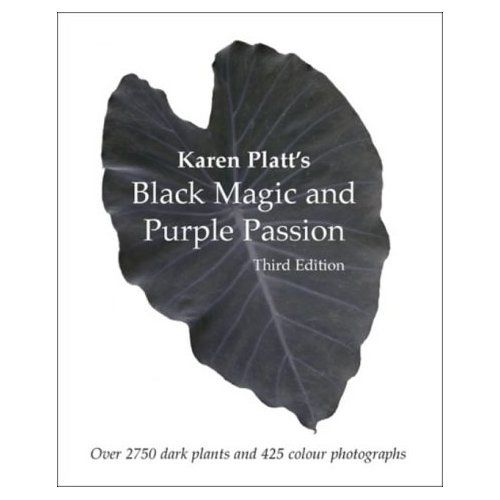 Black Magic and Purple Passion
by Karen Platt
208 pages
Black Tulip Publishing, 3rd Ed., 2004
List price:
$26.99

Karen Platt knows her way around in the dark. A resident of Sheffield, England, she has been studying, researching, and promoting black plants for nearly 20 years and her
Black Magic and Purple Passion
, now in its
4th edition
as an e-book, as well as the print
3rd edition
, is a testament to the vast knowledge she has acquired.
Featuring profiles of over 2,750 dark plants, with 425 color photos, this is the best reference work on the darkest plants and flowers in the plant world in print. As I sat and thumbed my way through page after page of luscious lovely licorice plants, my list of wants grew to an impossible length, even for this gardener who has a full acre of land to work with.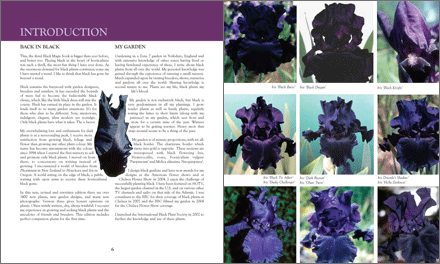 While the photography is gloriously detailed, the information in the book is also complete, including explanations as to why a plant appears black, which hues are considered to be black, and ideas for using black plants in the garden. Entries are listed alphabetically by genus, then species, with instructions on how to grow them. There are worldwide sources given for finding many of the plants in the book.
If I have one complaint about this book, it's that it isn't available in hardcover. I know I'm going to wear this one out, for all the poring over its pages, especially in the gloomy days of winter. Yes, that's right - nothing like a book about dark plants to bring a ray of light to the dark days.Though we in the north long for the sunshiny warmth of summer, and dream about our spring gardens that are months away, we use this time to scheme and plan for the next growing season and
Black Magic and Purple Passion
provides plenty of inspiration.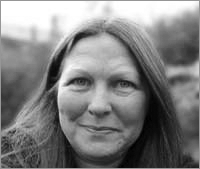 Karen Platt
is a gardening author and publisher. She began her horticultural career with research on black plants in the early 1990s. In 1996, she founded her publishing company and released
The Seed Search
, selling over 10,000 copies. Her successful color series of books on gardening is recognized worldwide. She is also founder of The Black Plants Society. For more information, visit her
website
.
Also by Karen Platt:
Gold Fever
Silver Lining: 2400 Silver Plants for the Garden
Emeralds: 1000 Green Flowers and 500 Choice Green Foliage Plants
The Seed Search
Lifestyle Gardening: Plants, Features and Materials for Today's Gardens
Plant Names A-Z
Seed Sowing and Growing Success
Plant Synonyms: 21,000 Plant Name Changes Simplified
__________________
The publication being reviewed in this blog post was the sole compensation for reviewing the product. All opinions expressed here are mine. If I like it, I'll say so. If I don't, I'll say that, too.