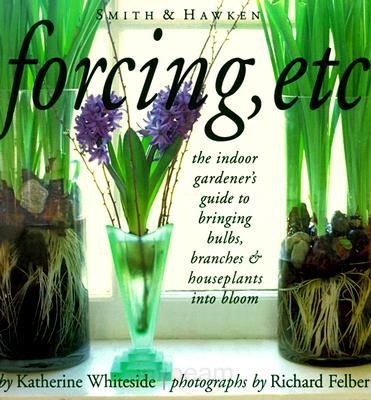 forcing, etc
by Katherine Whiteside
154 pages
Workman Publishing and Smith & Hawken, 1999
List Price:
$24.95
It's too bad that this book is presently out of print, because I've yet to find a comparable title that presents such a useful variety of information on forcing bulbs. But don't dismiss that "etc" in the title.
You might expect profiles on each of the commonly-forced bulbs, such as hyacinths, tulips, daffodils, and crocuses, and these are included here, but the detailed information on growing tender bulbs such as Amaryllis (
Hippeastrum
),
Oxalis
, and
Clivia
helps add even more character to your winter quarters. If those aren't enough, suggestions for houseplants that can fill in the gaps between bulb blooms will keep a gardener entertained until spring.
Also included are instructions for forcing branches from flowering shrubs and trees into bloom weeks and sometimes months before their usual time. Who wouldn't love the bright yellow forsythia blooms in February? Cut a branch at the end of January, bring it inside, put it in water, and three weeks later - sunshine in a vase! There are suggestions for thirteen such trees and shrubs.
Yet another section gives tips on propagation and there's a resource guide with a few suggestions for where to find what you need. Smith & Hawken, whose name is on the front of the book, is one of the listed sources, but sadly,
they closed their doors
this year.
Adding to the comprehensive how-to information on the subject matter is the beautiful photography of Richard Felber. That alone is inspiring enough to motivate a gardener to try their hand at
forcing, etc
.
Copies of this book can be found in many places online, including Amazon, which has several available via their
Marketplace
.

Katherine Whiteside
is an award-winning freelance garden writer whose stories have appeared in
Elle Decor
,
House & Garden
,
Town & Country
,
Martha Stewart Living
,
The New York Times
,
Vogue
,
Garden Design
,
Metropolitan Home
, and many foreign publications. Her first book,
Antique Flowers
, won two Awards of Merit from the Garden Writers of America. Her second,
Classic Bulbs
, was a Main Selection of the Garden Book Club. She is also the author of
The Way We Garden Now
.
Richard Felber
is a leading garden and landscape photographer who regularly contributes to major publications and books.
____________________
The book reviewed was purchased by the reviewer.