Flora Mirabilis: How Plants Have Shaped World Knowledge, Health, Wealth, and Beauty

by Catherine Herbert Howell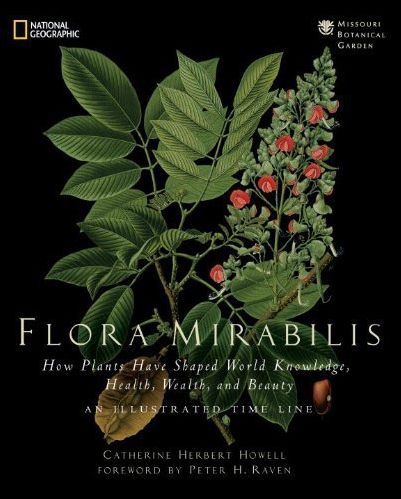 256 pages
National Geographic, October 2009
List price: $35.00



When National Geographic joins with the Missouri Botanical Garden to produce a book about the history of plants, you know it's going to be something exceptional.

Flora Mirabilis: How Plants Have Shaped World Knowledge, Health, Wealth, and Beauty

is an intriguing look at the history of plants and how they've occupied places of distinction as their value and beauty were discovered.

Catherine H. Howell has created a time line of history, coupled with reproductions of more than 200 exquisite botanical illustrations, taking us from prehistory to the present:


There have been those plants that influenced the course of history, such as cotton, coffee, and cinchona, the latter from which we get quinine, used to treat malaria. Many others are highlighted and by the time you come to the end of the book, it leaves no doubt as to the invaluable part plants have played and continue to play in our lives.




Flora Mirabilis

comes along just in time for gift-giving, not only for the gardener on your list, but for those who love history and want to know "the rest of the story."
_________________
The product or merchandise being reviewed in this blog post was the sole compensation for testing and reviewing the product. All opinions expressed here are mine, with no suggestions whatsoever by the manufacturer or distributor. If I like it, I'll say so. If I don't, I'll say that, too.