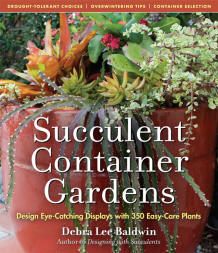 Succulent Container Gardens: Design Eye-Catching Displays with 350 Easy-Care Plants
by Debra Lee Baldwin
248 pages
Timber Press, January 20, 2010
List price:
$29.95

I've anticipated the arrival of this book for a couple of months now and when it finally arrived, I was nearly giddy with glee. Having recently developed an appetite for succulents, this really hit the spot. Baldwin shares her vast knowledge of succulents of all types with the rest of us in a very organized and easy-to-understand way.
This is a how-to manual of the best kind, with chapters on the various types of succulents and how to care for them. Site-specific details help readers choose those plants that will bring them the most success in their particular climate or indoor location. More than 300 color photographs give ideas for container plantings. I particularly like the section showing vertical displays.
Watch the trailer:
It's evident that Baldwin has a heart for her subject and she uses her artistic talents to present them in wonderful ways that aid us in displaying our own burgeoning collections. What? You don't have a succulent collection? I dare you to read this book and resist buying a plant or two. Or three or four or five.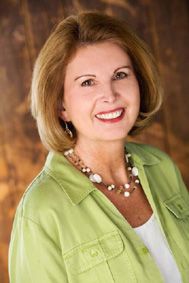 Debra Lee Baldwin
is an award-winning writer and editor based in Southern California. Throughout her 18-year career, she has authored an inspirational biography, and has written hundreds of feature articles and columns about architecture, homes, gardens, landscaping and interior design, and people who have made significant contributions to our culture. Debra has won awards from the Garden Writers Association of America, the Society of Professional Journalists, and the San Diego Press Club, and has appeared on national television.
Debra is also the author of
Designing With Succulents
. You may also be interested in the author's own Web sites,
www.DebraLeeBaldwin.com
and
www.succulentchic.net
.
__________________
The publication being reviewed in this blog post was the sole compensation for reviewing the product. All opinions expressed here are mine. If I like it, I'll say so. If I don't, I'll say that, too.