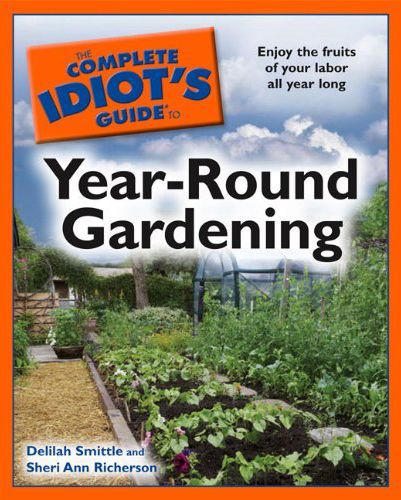 The Complete Idiot's Guide to Year-Round Gardening
by Delilah Smittle and Sheri Ann Richerson
336 pages
Alpha (Penguin Group), 2010
List price:
$19.95

Just like the other Idiot's Guides,
The Complete Idiot's Guide to Year-Round Gardening
is a manual. Assuming the reader knows next to nothing about gardening, it breaks the process down into bite-sized pieces that true beginners can understand.
Gardening is presented in six parts:
You Can Garden Year-Round

Gardening Basics: Before the Harvest

Gardening Under Cover: Spring to Fall

Gardening Under Cover: Winter

Greenhouse Gardening: All Seasons

Gardening Basics: After the Harvest
The goal of the book is to provide methods for growing a wide variety of plants all year round, including edibles and it's clear that the authors have given great thought as to how to do this. The obvious - constructing a greenhouse - is mentioned, but other less expensive and creative ways are explained as well.
There's something for everyone here, even experienced gardeners who want to expand their growing prowess. Like most gardeners eventually do, I've longed for a greenhouse, but don't want the expense of heating it in the winter. I thought I'd just use it for extending the growing season. It can certainly be used for that, but this book shows me that I can actually
grow
things in an unheated greenhouse in the winter!
This is yet another how-to gardening book with a bit of a twist to it and worthy of gifting to the newest gardener on your list. You may want to pick a copy up for yourself while you're at it.
Delilah Smittle
has been a senior editor at several garden book publishers and has written articles for
Flower and Garden
,
Fine Gardening
,
Organic Gardening
, and
Old House Journal
. She gardens year-round with a heated and an unheated greenhouse.
Sheri Ann Richerson
is an avid gardener, the Region III Representative for Plant-A-Row for the Hungry, and a member of the Garden Writers Association. She also gardens year-round.
__________________
The publication being reviewed in this blog post was the sole compensation for reviewing the product. All opinions expressed here are mine. If I like it, I'll say so. If I don't, I'll say that, too.