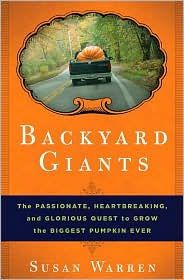 Backyard Giants: The Passionate, Heartbreaking, and Glorious Quest to Grow the Biggest Pumpkin Ever
by Susan Warren
256 pages
Bloomsbury USA, 2007
List price:
$24.95

I had no idea. No idea that so much went into the growing of the world's largest pumpkins. I guess if I'd thought about it, it would have come as no surprise all the lengths giant pumpkin growers go to, as they pursue their dream of growing a world champion.
What might have been a boring textbook of botany is deftly crafted into a suspenseful story of the personal quests of some of the best pumpkin growers in the world. Their triumphs and their disappointments are recounted by Warren in such a way that by the time I was nearing the end, I couldn't put it down. I knew there was something waiting for me and I couldn't wait to get to it.
Of course, I'm a gardener and how things are grown is of great interest to me, but I think even the casual reader will find
Backyard Giants
a fun and easy read. If I had the room to grow a few of these big pumpkins, I'd say this book inspired me to do so. But I'll have to leave that up to the Steve Connollys and Ron Wallaces of the world.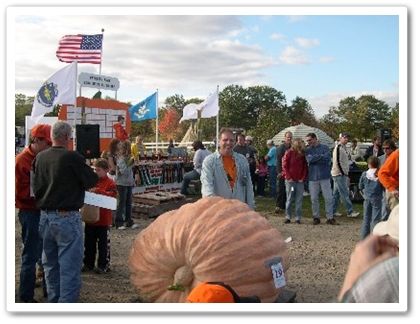 2007 World Champion, weighing in at 1,502 pounds
Photo from PumpkinNook.com
Susan Warren is Deputy Bureau Chief for The Wall Street Journal in Dallas, Texas. She writes and edits news and feature stories related to oil and gas, discount retailers and airlines. The Journal also gives her freedom to pursue stories about other things she finds interesting for its famed "middle column" feature on its front page. She has written on such wide-ranging topics as people who buy Silly Putty by the pound, the dangers of frying turkeys in boiling oil, and the spring ritual of dewberry picking in the South. Backyard Giants
grew out of Ms. Warren's October 2005 story about the trials of growing giant pumpkins.
________________
This book was purchased by the reviewer.