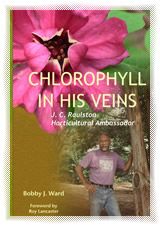 Chlorophyll in His Veins
: J. C. Raulston, Horticultural Ambassador
by Bobby J. Ward
352 pages
BJW Books, 2009
List price:
$25.00

As a fairly new gardener (six years), I'd heard the name J.C. Raulston and knew it was important in the horticulture world, but never really took the time to find out just why. So when I got the opportunity to review
Chlorophyll in His Veins
, I enthusiastically agreed.
Those who are accomplished individuals in any field fascinate me. Usually they've made important contributions and as I was to find out, J.C. Raulston certainly is no exception. The
Arboretum at North Carolina State University
bears his name and for good reason. Raulston founded it in 1976 and his relentless pursuit of his life's work has contributed a wealth of information and plants to the world of horticulture, not the least of which is the home gardener.
Ward chronicles much of Raulston's personal life, but making the story even more complete is the inclusion of several of Raulston's lectures, which allows us to hear his "voice." I especially enjoyed Raulston's "Untangling the Hardiness Question: What is Hardy and Why?" Notes on his
plant introductions tell me I likely have Raulston to thank for the
Cornus kousa
in my garden.
I have a confession to make. When I first started reading this book, I wondered how I was going to make it all the way through without getting a bit bored. How wrong I was! While it's not riveting, I found myself not being able to skim through it. Raulston's fascinating and full life was anything but boring and Ward's account of it isn't either.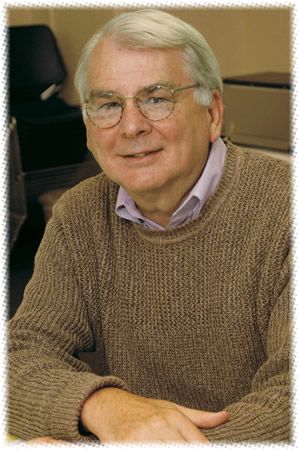 Bobby J. Ward
lives in Raleigh, North Carolina . He is a native North Carolinian and received an undergraduate degree in biology from East Carolina University and masters and doctorate degrees in botany and plant physiology from North Carolina State University.
Bobby is the author of
A Contemplation Upon Flowers: Garden Plants in Myth and Literature
,
The Plant Hunter's Garden: the New Explorers and Their Discoveries
, and is co-editor of
A Garden of One's Own
, a collection of the garden writings of North Carolina writer Elizabeth Lawrence.
He has written for
Horticulture
and
Carolina Gardener
magazines, as well as for the Scottish Rock Garden Club, the Rock Garden Quarterly of the North American Rock Garden Society, and the Raleigh (N.C.) News & Observer. Bobby was made a contributing editor at
Horticulture
in 2009.
__________________
The publication being reviewed in this blog post was the sole compensation for reviewing the product. All opinions expressed here are mine. If I like it, I'll say so. If I don't, I'll say that, too.