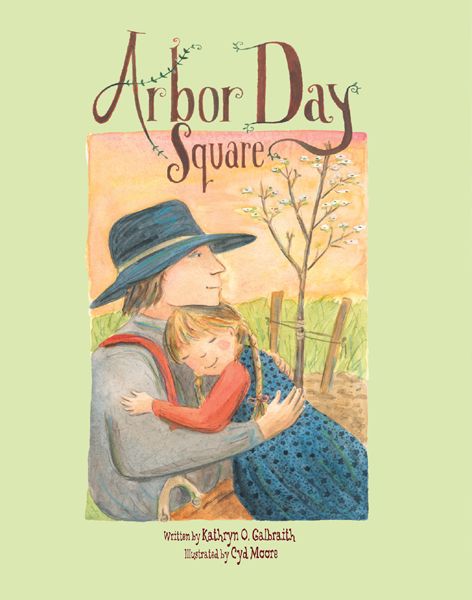 Arbor Day Square
by Kathryn O. Galbraith
Illustrated by Cyd Moore
32 pages
Peachtree Publishers, April 2010
List price:
$16.95

Arbor Day is traditionally celebrated on the last Friday in April, although some states choose a different day to set aside to plant trees.Young and old might wonder about the history behind this holiday, which is also now observed in several other countries, including England, Australia, and Mexico.
In Galbraith's book, lavishly and charmingly illustrated by Cyd Moore, the reasons for Arbor Day are woven throughout the story of Katie and her family, as they settle on the prairie. A sense of community is illustrated through the coming together of the townspeople to plant trees where there were none. The rest of the story shows them enjoying the trees in various ways as they grow, then as time passes and future generations enjoy them, too.
Arbor Day Square
is an educational book that's fun, targeted for ages 4-8.
Kathryn O. Galbraith
is an award-winning children's book author with more than a dozen picture books to her credit, including
Boo, Bunny!
;
Traveling Babies
; and
Laura Charlotte
. She teaches writing for children at the University of Washington.You can visit Kathryn O. Galbraith's website at:
www.kathrynogalbraith.com.
Cyd Moore
has illustrated more than twenty books, including
What Do Parents Do? (when you're not home)
;
I Love You, Stinky Face
;
Merry Christmas, Stinky Face
;
It's Time for School, Stinky Face
; and
I Miss You, Stinky Face
(which was featured on PBS's
Between the Lines
). She lives in Michigan. You can visit Cyd Moore's website at:
www.cydmoore.com
.
__________________
The publication being reviewed in this blog post was the sole compensation for reviewing the product. All opinions expressed here are mine. If I like it, I'll say so. If I don't, I'll say that, too.