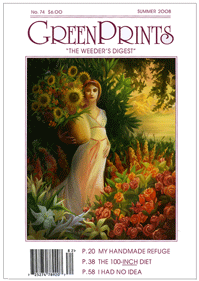 GreenPrints: The Weeder's Digest
Edited by Pat Stone
One Year Subscription (4 issues):
$19.97

"What about a garden magazine that
doesn't tell you how to garden?"
~ Pat Stone, Editor
It's no surprise that editor Pat Stone knows his magazine better than anyone. Except that while technically this is a magazine, it doesn't really feel like one. Each issue, published quarterly, is an anthology of some of the best writing by gardeners, for gardeners, about gardening.
The articles, fifteen per issue (give or take), are timely, yet timeless. You may learn more about gardening, but you're much more likely to learn about
people
who garden - people just like you. Some of the best writing in any genre is that with which the reader can identify and gardeners of any level will do just that with
Green Prints
.
As with most magazines, there are ads - most from companies you know. The heavy paper covers are in color, but the body of the magazine is in black-and-white, with original illustrations accompanying the stories. Each article is a quick read, making this a magazine that
will
be read. You'll like it, too.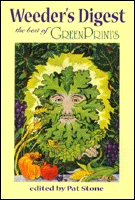 Weeder's Digest: The Best of GreenPrints
, edited by Pat Stone, is a collection of some of the best-loved stories from past issues of
GreenPrints: The Weeder's Digest
. Published in1996, it contains writings by Diana Wells, Jeff Lowenfels, Michael Pollan, Karel Čapek, and many others, including Stone himself. Fulcrum Publishing, 194 pages, softcover. List price:
$15.95
.
Pat Stone has been an avid gardener and journalist for most of his life. He founded the literary garden magazine,
GreenPrints
, in 1990, based on his "The Weeder's Digest" broadcasts on public radio and
CBS This Morning
. Today, Pat and his family and staff continue to sort through the best of garden writings and illustrations for the magazine at his home in North Carolina.
__________________
The publication being reviewed in this blog post was the sole compensation for reviewing the product. All opinions expressed here are mine. If I like it, I'll say so. If I don't, I'll say that, too.