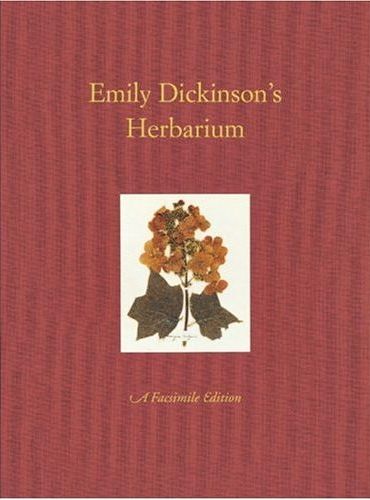 by Emily Dickinson
208 pages
Harvard University Press, 2006
List price:
$143.00

American poet Emily Dickinson was also an avid gardener. In fact, her gardening inspired much of her writings. When I first saw
Emily Dickinson's Herbarium: A Facsimile Edition
, I immediately wanted it. I've started my own herbarium, something very popular in the 19th century, but as an avid gardener myself, I've enjoyed collecting plants in this way.
Let me start off by saying that this book is pricey. $143 is nothing to sneeze at and no, I didn't pay for my copy. But putting that aside, this is one gem of a book. A piece of art. A treasure, to anyone in love with plants. Over 400 specimens are shown here, making up the bulk of the book, with 21 (large) pages of history and explanation before them.
The story of how Emily Dickinson's works even managed to be published is a complicated and convoluted one. To have this facsimile of such a personal aspect of Dickinson's life (for surely she never dreamed such a book would ever exist, nor that anyone would even be interested), is nothing short of miraculous.
The book is large, measuring 11½ by 14 inches and weighing in at just under five pounds. It is linen-bound and comes in a linen covered slipcase. The appearance alone commands respect, but what is contained within is a delight. The collection of plants so artistically displayed on the pages by then 14-year-old Emily, in 1845, is a foreshadowing of the poetry she would write as an adult.
I am grateful to Harvard University Press for my copy. No doubt I would have found a way to procure one for myself, as it is everything I hoped it would be - a treasured volume of plants and flowers lovingly collected by a woman who shares my passion for them. I can imagine her looking through her collection from time to time, admiring them, just as I do now, 165 years later.
Emily Elizabeth Dickinson
was an American poet. Born in 1830 in Amherst, Massachusetts, she was known for her gardens more than her poetry during the time she was living. Over 1800 of her poems have been published, nearly all of them after her death in 1886.
__________________
The publication being reviewed in this blog post was the sole compensation for reviewing the product. All opinions expressed here are mine. If I like it, I'll say so. If I don't, I'll say that, too.