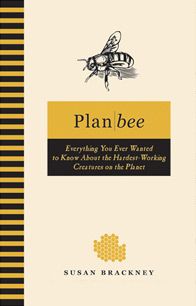 Plan Bee: Everything You Ever Wanted to Know About the Hardest Working Creatures on the Planet
by Susan Brackney
208 pages
Perigree, 2009
List price:
$21.95

Honeybees have been a part of my life since I was quite young. I grew up just a few miles from two honey producing and packing businesses. It was nothing to drive down one of our country roads and see bee hives sitting in the middle of a clover field. It's fascinating to watch the flurry of activity surrounding those boxes.
When asked to review Susan Brackney's book,
Plan‌ Bee: Everything You Ever Wanted to Know About the Hardest Working Creatures on the Planet
, I had my concerns that the book was going to be rather dry and boring after awhile. I mean, really. How much can you say about bees before it begins to sound like an entomology textbook?
Susan Brackney is a beekeeper. She's also an engaging writer who made me love honeybees even more than I already did. At no point did I feel like putting the book down without finishing it.
"Every time I spoon out a bit of honey for my coffee or oatmeal, I'm reminded that anything of real value requires hard work and a lot of it. On average, it takes about a dozen bees to gather enough nectar to make just one gloriously golden teaspoon of honey, and each of those bees must visit more than 2,600 flowers in the process. Crazier still, all those flights from the hive to the flowers and back again add up to 850 miles or so - just over the distance from New York to Chicago."
There's R-rated stuff in the book, too. I don't tell you that to get you to read the book, but how a queen bee attracts her mates and what they do after she's lured them her way is pretty bizarre stuff. In fact, this little book (192 pages and about 5" x 8") is chock-full of amazing facts, history, and anecdotes about honeybees. There's also information about beekeeping, just in case you'd like to try your hand at it, and recipes for making not only food items, but soap, candles, and lip balm.
I think Plan‌ Bee is the bee's knees. In case you don't know what that means, read the book. It tells you that, too.
Susan Brackney
is a beekeeper in Bloomington, Indiana. A nature writer whose articles have appeared in the
New York Times
,
Plenty
,
Organic Gardening
, and elsewhere, she is also an avid gardener, an expert on sustainablility, and the author of
The Insatiable Gardener's Guide
,
The Lost Soul Companion
, and
The Not-So-Lost Soul Companion
. Visit her website at
www.planbeebook.com
.
__________________
The publication being reviewed in this blog post was the sole compensation for reviewing the product. All opinions expressed here are mine. If I like it, I'll say so. If I don't, I'll say that, too.