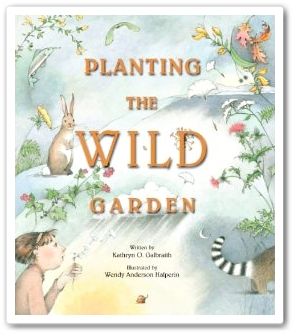 Planting the Wild Garden
by Kathryn O. Galbraith
32 pages
Peachtree Publishers, 2011
List price:
$15.95

My children are now grown, but if they weren't,
Planting the Wild Garden
would be in their home library. As a gardener, I love the premise of this beautifully illustrated children's book, which explains how meadows and woods and ditch banks come to be a medley of wildflowers and native plants, thanks to wind, water, birds, animals, plants, and people.
Halperin's stunning illustrations tell the story as clearly as Galbraith's words, making them the perfect complement to bring this story to life. In fact, I don't know which I like more - the illustrations or the story itself. The endpapers alone deserve close inspection and will launch questions like, "What kind of seed is that?" and "How do you think that seed travels?"
The story is presented in easy-to-understand language that children ages 4-8 will find fun to read. Parents will enjoy it, too, as it lends itself to the animated voice that seems to come naturally when reading aloud to children. And by the time the story comes to its conclusion, both children and parents will have learned something about the natural world around them.
"Under the afternoon sun, the pods of the Scotch broom grow hot and dry. Snap! Snap! Out pop their seeds, like popcorn from a pan. They land here. And there. And snap! over there, where they will have more room to grow."
For now,
Planting the Wild Garden
is on my bookshelf, awaiting the day I can read it to future grandchildren. It will be a pleasure.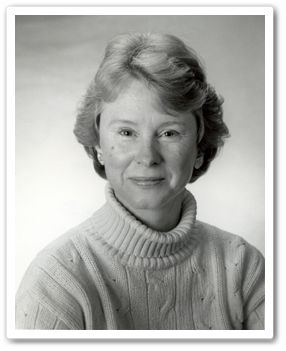 Kathryn O. Galbraith
is an award-winning children's book author with more than a dozen picture books to her credit, including
Boo, Bunny!
,
Arbor Day Square
,
Traveling Babies
, and
Laura Charlotte
. Her most recent picture book, Arbor Day Square, won a 2010 Parents' Choice Award. She lives in Tacoma, Washington, with her husband and their pup, who loves to dig in the garden too.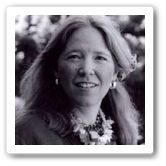 Wendy Anderson Halperin
has illustrated over twenty-five books, including
Thank You, God, For Everything
and
Turn! Turn! Turn!
She also created the award-winning project "Drawing Children into Reading." Wendy lives with her husband, John, in South Haven, Michigan. They have three children.

__________________
The publication being reviewed in this blog post was the sole compensation for reviewing the product. All opinions expressed here are mine. If I like it, I'll say so. If I don't, I'll say that, too.