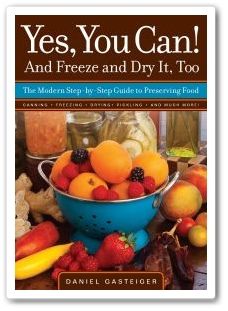 Yes, You Can! And Freeze and Dry It, Too
The Modern Step-by-Step Guide to Preserving Food
by Daniel Gasteiger
252 pages
Cool Springs Press, 2011
List price:
$19.95

With the harvesting season well under way in our gardens, the question becomes, "What do we do with all this produce?" The number one reason people grow fruits and vegetables in the garden is to put food on the table, but you can only eat so much of it at a time, and many plants produce considerably more than is possible to consume when it's fresh.
We can share the bounty from our garden, of course, but there are other ways to make it last longer.
Yes, You Can! And Freeze and Dry It, Too
is a comprehensive manual in which author Daniel Gasteiger shares his methods for preserving the goodness. I'd never really thought about the number of ways that food can be preserved. Canning, freezing, drying, and pickling, I knew. But fermenting? Sugaring? Gasteiger explains the processes for those and every other way to get the most of your summer crops.
Buying this book may well be the edible gardener's smartest purchase of the season. With easy to understand explanations and plenty of photographs to illustrate the text, gardeners who want to preserve their harvest, or those who buy vegetables and fruit in bulk, will find the detailed help they need.
Daniel Gasteiger
is a social media marketing consultant who nearly plants more stuff in his tiny vegetable plot than gardening books recommend for plots four times as large. He learned canning and jelly making in his mom's kitchen when "preservation" meant pouring melted wax on fruit
preserves. Daniel preserves produce from his garden and from local farmers' markets, putting up more each year as he tries to improve the
quality of ingredients that go into his home‐cooked meals.
He maintains three blogs related to gardening and preserving:
Your Small Kitchen Garden
,
Your Home Kitchen Garden
, and
Food Dryer Home
. Gasteiger, his wife, and three children live in Lewisburg, Pennsylvania.
__________________
The publication being reviewed in this blog post was the sole compensation for reviewing the product. All opinions expressed here are mine. If I like it, I'll say so. If I don't, I'll say that, too.