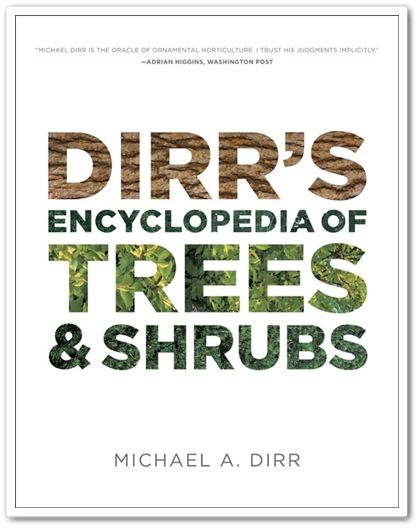 Dirr's Encyclopedia of Trees & Shrubs
by Michael Dirr
951 pages
Timber Press, 2011
List price:
$79.95
I'm a little reluctant (and embarrassed) to confess that when I received my review copy of
Dirr's Encyclopedia of Trees & Shrubs
a couple of weeks ago, it was the first time I'd ever laid eyes on the book - in any edition. But its reputation preceded it. I'd certainly
heard
about it and I was well aware of its author. Highly revered, enough that it's called "the bible," this book is a combination of Dirr's previous reference publications, making it the most comprehensive on the subject, containing information about more than 3700 species and cultivars.
With over 380 genera represented, together with 3500 photographs contained in 951 pages, this is no small piece of literature. But Dirr is no small figure in the world of horticulture, either. He lives and breathes his work as a hybridizer (Endless Summer® hydrangeas are just a small part of his work), educator, researcher, and author, and we are the beneficiaries.
Dirr infuses the detailed factual information with personal opinions, which carry the imprint of his intimate knowledge of his subject matter. The book is as much a grower's how-to manual as it is an essential work of reference and not one that you read from cover to cover as if a novel, of course. But I found it difficult to put down, once I started reading about specific plants. One thing led to another (and another…) and before I knew it, I'd been reading for an hour.
Think $79.95 is too much to pay for such a book? It's a bargain. Trust me.
~~~~~~~~~~~~~~~~~~~~~~~~~~~~~~
HEADS UP!
Timber Press is giving a copy away this Friday, December 2, 2011. All you need to do is head on over to their site and
leave a comment on the giveaway blog post
by 4:00 PM PST that day. Good luck!
Michael A. Dirr
is a professor of horticulture at the University of Georgia. He is the author of twelve books and has published more than 300 scientific and popular papers and articles. His teaching, lectures, seminars, garden study tours, and plant introduction programs have contributed enormously to greater horticultural awareness. He has received the highest teaching and gardening awards from the University of Georgia, American Society of Horticultural Science, American Horticultural Society, American Nursery & Landscape Association, Massachusetts Horticultural Society, Southern Nursery Association, and Garden Club of America.
__________________
The publication being reviewed in this blog post was the sole compensation for reviewing it. All opinions expressed here are mine. If I like something, I'll say so. If I don't, I'll say that,too.