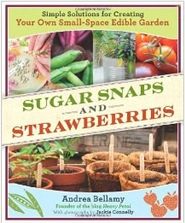 Sugar Snaps and Strawberrie
s:Simple Solutions for Creating Your Own Small-Space
Edible Garden
by Andrea Bellamy
224 pages
Timber Press, 2011
List price:
$19.95

There's a plethora of edible gardening books on the market today, following the rising trend of growing your own. It can be difficult to choose one to guide you as you begin your own vegetable garden. No need to limit yourself to just one, but be sure
Sugar Snaps and Strawberries
makes its way to your gardening bookshelf.
More than 65 fruits, vegetables, and herbs are profiled in detail, but that takes up less than half the book. The rest tells how to plant, how to deal with potential problems including pests, and features ideas on ways to make the best use of your small space, if that's all you have in which to grow it.
Besides being an invaluable guide for cultivating, as an amateur photographer I was impressed with the quality of the images (by Jackie Connelly) throughout the book. This is simply a fine piece of informational, inspiring and winning work. My copy is going to end up dog-eared, I just know it.
~ ~ ~ ~ ~ ~ ~ ~ ~ ~ ~ ~ ~ ~ ~ ~
Note to the publisher:
I almost hate to add this - I like the book so much. While aesthetically, I find the softer color of print used throughout the book to be attractive (and I LOVE the font), black would have made it easier to read, especially in low light and on pages where a colored or printed background was used. Just sayin'.
__________________
The publication being reviewed in this blog post was the sole compensation for reviewing the product. All opinions expressed here are mine. If I like it, I'll say so. If I don't, I'll say that, too.