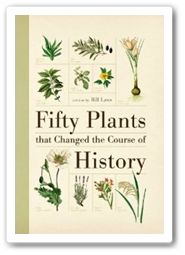 Fifty Plants that Changed the Course of History
by Bill Laws
224 pages
Firefly Books, 2011
List price: $29.95

In the spirit of
Wicked Plants
(and this is a
good
thing), Bill Laws brings trivia buffs a treasure trove of quirky facts about fifty plants that made a difference in the world. It matters not whether you're a gardener or that you simply enjoy learning obscure information - this is a book for the curious sort.
There are between 250,000 and 300,000 types of flowering plants in the world, and Laws highlights 50 of them, sharing essential facts such as a description of the plant, its native range and how it has been used thoughout the years and how it has affected human life.
The book itself has a retro feel to it, with beautiful illustrations, vintage photographs, and fonts that enhance that character. An attached ribbon bookmark is a nice touch. But the best part is finding out things like this:
"Adding the female flower clusters of the Common hop (Humulus lupulus) to the brewing process turned ale into beer, and in doing so increased its shelf life."

"Cotton is a natural fabric, yet more chemicals are sprayed on cotton than on any other crop. Today, cotton accounts for less than 3% of the world's farmed land, but it consumes about a quarter of the world's pesticides."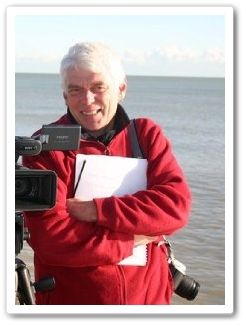 Bill Laws
, born in 1948 and brought up in Llansteffan, west Wales, became a journalist/writer after being thrown out of two secondary schools and failing his English exams. Currently editor of Britain's national magazine for Gypsies and Travellers,
Travellers' Times
, he's the author of 15 titles and working on a social history of street music (involving busking through Britain with his soprano saxaphone).
__________________
The publication being reviewed in this blog post was the sole compensation for reviewing the product. All opinions expressed here are mine. If I like it, I'll say so. If I don't, I'll say that, too.