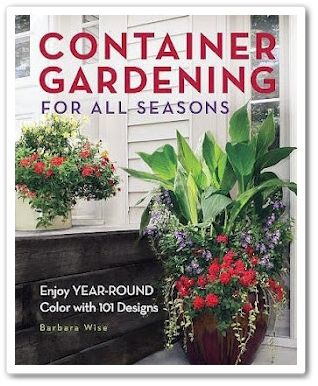 Container Gardening for All Seasons
Enjoy Year-Round Color with 101 Designs
by Barbara Wise
256 pages
Cool Springs Press, 2012
List price:
$21.99
As one who once declared herself to be container-challenged, I welcomed Barbara Wise's recent release,
Container Gardening for All Seasons
. Those for whom this talent of assembling attractive planted pots comes easily, seem to have an innate sense of what looks good with what, but if you're like me, you need help.
Wise demystifies the process of container planting, giving us the basics and some tricks of the trade. From good plant choices to proper planting practices, it's all laid out here in easy steps. Over 100 container recipes assure that there is no shortage of ideas for sprucing up your landscape.
I found her "Ten Commandments of Container Gardening" to be especially helpful and a nice general summary of how to be successful with your container plants, whether you're a beginner or a seasoned veteran. And lest you think this is merely a list of what to put with what and "first do this, then that" kind of book, Wise's charming southern personality sings throughout. She makes container planting easy and fun.
Barbara Wise
is the Floriculture Director for the Southern Land Company. Dubbed by her community as "The Flower Lady," she has a job that involves planting with her staff around 700 containers each year for the homeowners and communities where she works. Visit her blog at
www.bwisegardening.blogspot.com
.
__________________
The publication being reviewed in this blog post was the sole compensation for reviewing it. All opinions expressed here are mine. If I like something, I'll say so. If I don't, I'll say that,too.