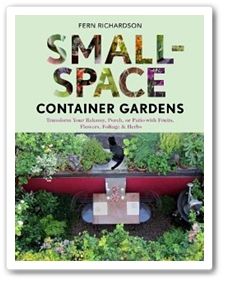 Small-Space Container Gardens

Transform Your Balcony, Porch, or Patio with Fruits, Flowers, Foliage & Herbs
by Fern Richardson
188 pages
Timber Press, 2012
List price:
$19.95
Fern Richardson is the mastermind behind the wildly popular blog
Life on the Balcony
. Though I've got an acre on which to garden, I enjoy Fern's ideas, because my acre has plenty of small spaces that can make use of them. And she seems to have a never-ending supply.
In her new book,
Small-Space Container Gardens
, Fern has assembled a collection of her best designs and shows how to make them happen. Perhaps the most well-known idea of all from her blog is her use of a pallet to create a vertical garden, and the how-to is detailed here. From selection of plants to illustrations of how to lay it all out, beginning and experienced gardeners alike will find plenty of inspiration.
While I thoroughly enjoyed "hearing" Fern's voice, I found the format of the book to be a bit distracting, mainly because of the large-type print on some of the pages, although fans of large-print books may welcome this. Also, for a book on small-space gardening to be as large as this one, seemed incongruent with the idea. (The book measures 8½ x 11 inches.)
But these are just personal preferences and they're certainly inconsequential to the book's purpose, which is to inspire and guide gardeners in their quest to make the best use of their small spaces. In that, Fern's endeavor has hit the mark and gardeners will be pleased to find more than enough ideas to satisfy their quest for a beautiful garden, no matter what their space.
Fern Richardson
is the creator of the popular and critically-acclaimed garden blog,
Life on the Balcony
. A master gardener, amateur photographer, and garden designer, she lives in Long Beach, California, on a balcony with her many plants.
__________________
The publication being reviewed in this blog post was the sole compensation for reviewing it. All opinions expressed here are mine. If I like something, I'll say so. If I don't, I'll say that,too.